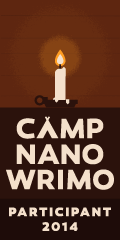 Yup, signed up for Camp NaNoWriMo! Before anyone says I'm crazy, let me assure you I have not signed up for another 50,000 word monster first draft to lie unfinished and unedited on the hard drive for years. I have signed up to complete another 30,000 words of 'Homunculus', my 2012 NaNo tale of androids and psions in the far-future encompassing large amounts of material from the DD303 course books (it was my final year of uni, my head was kind of in that zone). I'm hoping that this will take me to 'the end' and I can move it to the edit pile. Since I'm going to be concentrating on that for the next month I had hoped to get two short stories finished this month for my other challenge. I typed up two different stories from The Diary and spent a lot of time thinking before finally admitting that neither of them where right. These were the original challenges:
Point of View Character Tag: http://www.leighkeating.me/?p=56
1 scene written from 2 different PoVs: http://www.leighkeating.me/?p=68
They were both fun writing challenges, and I invite anyone to have a go at them for themselves :). But in the end I just had scenes, not a complete story, and I'd be happy to share them but it's more of a writing group thing (any of the Lancs & Cumbria Wrimos fancy taking on the challenge?). So, I'm giving you something else over the next couple of months. Probably my favourite piece from the whole of the diary challenge – my 2011 script frenzy script 'The Captain's Blog'. This was planned to be a ten-episode web series, so super short episodes of about 5 minutes each. It was also the last Script Frenzy, so a fitting thing to share in April when the challenge used to run :(. I could just publish an episode a month and get to the end of the year very easily, but that seems like a bit of a cheat, so this month I will give you episode 1 and I'll try and update once a week. That should get me through to the end of May and give me enough time to finish my novel before starting another short story editing job. So check in on Friday for Episode 1: Alone.
Right, where was I up to in that novel now…