Well, first thing's first: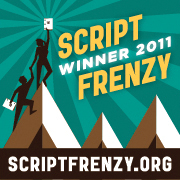 I am a Winner!
Yes, I successfully completed 100 pages in 30 days, and I even finished the story. My first thought was 'Yay!'. My second thought was 'Yikes, I need something else to write tomorrow!'. So I have only moments to bask in the euphoria of victory before I must press on with the year long writing challenge. I wonder if this it what being a proper writer is like?
Since it's the last day of the week I think it's ok to spend one more day on Script Frenzy before starting fresh next week for the new month, so today you may carry on with your script if you haven't finished, or spend some time reflecting on what you did if you have. You can make some notes on what you would change when you edit, note anything that's unresolved, or write down some ideas for a sequel. Then tomorrow it's the start of a new week of challenges :).
2nd-8th May
This week it's a Royal Wedding special. Markie set me a guest challenge and it fitted with the big news of the week so I thought I'd use it now. The challenge is to write 7 different conversations at a wedding. Any people at all can be involved, but they are all at the same wedding. It could be a royal wedding. Markie is offering bonus points if it involves a prince who turns out to be gay. I'm not offering any points at all :P.
Next week we'll go back to the usual challenge format for a while. Have fun!